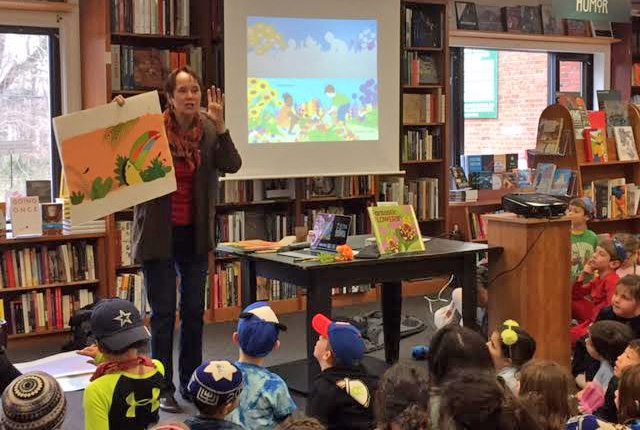 "Her presentation was thoughtfully crafted, engaging, and hit on so many of the points we try to raise with our readers and writers!"
Deborah Hensley, Horace Mann Elementary School, Washington, DC
"A marvelous guest author/illustrator for any elementary school group of children."
Jeffrey Brewster, International School of Brussels, Belgium
"Your visit with the kindergarten and first graders was truly delightful! Your use of technical terminology in a child-friendly manner gently shepherded the students into the field of scientific inquiry. By inviting them to closely consider not only photographs of the plants, but also the tiny variations in your artistic drafts rendering them, you encouraged those students to see themselves as scientists. They made such careful observations, and you masterfully fielded the students' many enthusiastic questions!"
Kit Ballenger, An Open Book Foundation program at Malcolm X Elementary School, Washington, DC
"Her freshness of approach, honesty and enthusiasm enchanted the children."
Ann Edmonds, The Galloway School, Atlanta, GA
"Susan was fantastic. I find myself referencing things she said about writing with my students. She made a great impression on them."
Holly Weise, Princeton Academy of the Sacred Heart, Princeton, NJ
"Her presentation was as inspirational as it was informative."
Donna Jonte, University Park Elementary, Hyattsville, MD

"Your presentation was stupendous! Now I know to write a book takes lots of perseverance!"
Mary, fifth grader, Fourth Presbyterian School, Potomac, MD
"Weeks later, teachers were still talking about her outstanding program."
Louise Simone, The Sheridan School, Washington, DC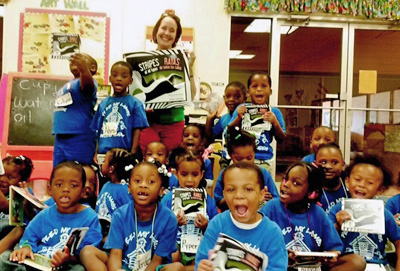 "The students and faculty thoroughly enjoyed our visit with Ms Stockdale. She is full of energy and knowledge about writing. Her pleasing presention manner held the attention of every group she saw." Myra Morrison, Trinity School, Atlanta, GA
"Susan was excellent! She shared a lot of tips that teachers can use in their teaching and students can use in their writing."
Faith Bode, Kamehameha Elementary School, Honolulu, HI
"The part I loved was when you told us your mistakes and how you fixed them."
Gabriella, fourth grader, Harford Day School, Bel Air, MD"
The feedback on your programs has been outstanding! Your knowledge, enthusiasm and flexibility were enjoyed by all."
Susan Pannebaker, PA One Book, Every Young Child Program, Harrisburg, PA"
"Conference participants commented on how impressed they were by Susan's talent, by her energy, and by her generosity with her time and attention." Susan Bernadzikowski, Literacy for All Conference, North East, MD
"Her bubbly and exciting personality engaged the audience. She provided a wonderful learning experience on how a children's book is created." Beth Shapiro, Maryland Association of School Librarians Annual Conference, Ocean City, MD
"She gave a dynamic luncheon address which our teachers found interesting and entertaining."
Peggy Albers, Georgia State University Literacy Conference Atlanta, GA