Bird Show
Just published!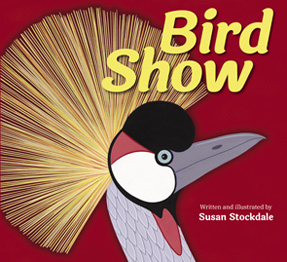 Format: Hardcover
Peachtree Publishing Company, Ages PreS - Grade 2
$16.99, 10-3/8″ x 9-3/8″
ISBN: 9781682631287
Total pages: 32; Rights: World

"All of them dress in their own special way,
and put on a fashion show every day!"
Welcome to the Bird Show, showcasing nature's most dazzling colors, diverse patterns, and fashionable feathered features!
Birds may be one color or many. Their feathers may be simple and solid or speckled, striped, or spotted. They may "wear" a jacket, a scarf, an apron, a headdress. But just like people, each one contributes to our beautiful world, made more vibrant by their diversity.
Bird Show celebrates both familiar and exotic birds with colorful, detailed portraits and energetic, rhyming text. An afterword provides more information about each species and offers an entertaining pattern matching game.
Reviews
• "Stunning… Although catalogued in the natural sciences, Stockdale's mellifluous prose deserves to be classified as literature and her vibrant acrylic illustrations as art." School Library Journal Starred Review
• "Striking birds pose in acrylic paintings, each resplendent in saturated colors. The clever comparisons suggest a new way to see and remember these species. A posh performance to read aloud or alone." Kirkus Reviews
• "With a brief text and clearly delineated, vibrant artwork that shows up well from a distance, this book is a natural for reading aloud during preschool or primary-grade bird units." Publishers Weekly

• "Red, blue, speckled and striped birds flutter through the pages of this stunning picture book by acclaimed author/illustrator Susan Stockdale. Lively rhymes engage the ear and bright pictures acquaint youngsters with the appearance and habitat of each bird." Washington Parent
• Nominee, Capitol Choices